Luggage Shipping to Saint Lucia
Send your bags to Saint Lucia with our cost-effective Door to Door delivery service
Important Information
Aerosols, nail varnish or perfume are not permitted.
Send Luggage Cheap to Saint Lucia
Whether you are planning to visit Castries or Vieux Fort let AiroLuggage send your luggage door to door. Saint Lucia has many attractions on offer such as; Gros Piton, Marigot Bay or Rodney Bay. These attractions offer travellers an insight into the history and culture of this country and are some of the most popular in the whole of Saint Lucia.
Luggage Courier to or from Saint Lucia
AiroLuggage offers a convenient Door to Door luggage shipping service as an alternative to dragging suitcases around the airport, allowing you to travel handsfree.
Lets us help you transfer your bags today by getting a 30 second quick quote.
Why do customers like our luggage courier service to Saint Lucia?
Door to Door service
Easy online booking interface
Personalised customer service
24/7 live chat contact us anytime anyday for a live update.
Convenient afternoon collection window 12pm-4.30pm with most of our shipments collected before 3pm.
Live tracking – track your luggage on your phone
Below are the most popular destinations for sending luggage to and from Saint Lucia with AiroLuggage
Castries
Vieux Fort
Micoud
Dennery
Soufriere
Gros Islet
Laborie
Canaries
Cap Estate
Choiseul
What Can I Send to Saint Lucia?
Transferring bags to Saint Lucia. We don't charge extra to send your luggage and it only takes an extra day to deliver your bags.
Send Luggage
Our suitcase courier service to and from Saint Lucia couldn't be more convenient. Imagine sending your unaccompanied bags ahead and not having to check-in luggage at the airport allowing you to breeze through security handsfree. Our personalised Door to Door luggage delivery service is a cost-effective alternative to checking in bags at the airport. Avoid luggage carousels and lugging heavy bags to your destination by using AiroLuggage's hassle free service.
Send Boxes
Moving abroad or looking to move boxes home before your next adventure? Then why not use our convenient Door to Door box delivery service. Many people prefer to use our air service compared to shipping their boxes by sea or truck which can take many weeks/months and be more expensive! Use our Classic Service to send boxes to or from Saint Lucia in 4 days or our Luxury Service in 1 day as a hassle-free alternative.
Send Golf Clubs
Any keen golfer knows the problems of carrying heavy golf clubs to Saint Lucia, and there's nothing worse than not playing with your own golf clubs abroad. Using AiroLuggage's Door to Door golf delivery service means you can sit back and relax knowing your golf clubs are being transported to Saint Lucia with care. Now you don't have to drag heavy golf clubs along with your bags across the airport.
Send Bikes
Transferring bicycles back home can be very stressful and expensive. Many cyclists prefer to use AiroLuggage's unaccompanied bicycle shipping service when sending bikes to Saint Lucia. Lugging excess baggage along with your bikes can be hugely stressful, let AiroLuggage ship your bikes to Saint Lucia door to door, meaning you can relax knowing your luggage is being handled with care.
Send Musical Instruments
Sending musical instruments to Saint Lucia requires careful transportation and lifting due to their value. Our international luggage shipping service means you can rely on us to deliver your musical instruments such as guitars, cellos, ukuleles, drums or keyboard with confidence. Many musicians have used our service and use our shipping service time and time again. As long as your instruments are securely packaged then we will be able to deliver them anywhere in the world door to door.
Send Oversized Luggage
With airlines penalising customers for exceeding their baggage allowance AiroLuggage offers an excess suitcase service, even if your bags are over our max weight of 30kg we can always tailor a quote for your specific requirements so you can send your luggage safely overseas. Give us a call or catch us on live chat.
Here's what our customers say about using our luggage shipping service to Saint Lucia
- Convenient Door to Door luggage delivery service
- Send boxes of personal and household items to study abroad
- Ship luggage ahead to enjoy a luggage free vacation
- Move boxes and unaccompanied luggage overseas as an expat
- Send your bags directly to your hotel or apartment
- Ship baggage door to door whilst travelling handsfree
- Transfer luggage as we have many people travelling in our group
- Send bags home to family so I can travel light for my next adventure!
As you will see form our reviews and testimonials, our customers love using our luggage shipping service and use us time and time again.
Shipping your unaccompanied excess luggage to Saint Lucia with AiroLuggage means you can breeze through the airport knowing that your luggage will be at your destination when you arrive.
Send Your Bags to Saint Lucia
Our cherry-picked couriers will collect your luggage from your home and deliver it to your destination in Saint Lucia – we have vetted each of our couriers, so you have peace of mind that your luggage is being handled with care. We quality score each delivery courier based on their service levels. It's our goal to provide you with a hassle free and personalised service so you know your luggage is in safe hands when traveling to Saint Lucia.
Customs Information
On the whole used personal and household effects do not incur duty or taxes, so there's no need to worry. However, it is upto the customer to check the guidelines for that specific country and its policies on unaccompanied personal effects.
When you make a booking, we will guide you through the customs process, and provide you with guidance for that particular country along with any paperwork if required. We complete most of this for you.
On the whole our customers suitcases clear customs to make their delivery date. We are experts so if there are any problems, we can help you out and are happy to do so, but we would like to emphasise that the customer needs to make themselves aware of any customs regulations for personal effects as each country is different.
What Can I Send in My Luggage?
You can send practically anything in your luggage that you would typically find in a suitcase if you were going on vacation. However, there are some items that are regarded as dangerous and strictly prohibited, please see section 13 of our terms and conditions, but for ease we will list the most common items that cause suitcases to be stopped by customs.
Send your items today
You can send suitcases, boxes, golf bags, bikes and skis/snowboards or send a parcel.
Benefits of our services
Collection time between 12pm-4.30pm
Free luggage protection of £100
Live tracking
Door-2-Door delivery service
United Kingdom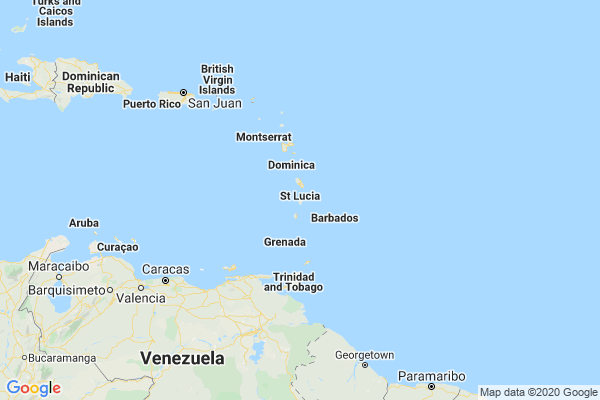 We pride ourselves on outstanding delivery to or from Saint Lucia
We have independent reviews on Trustpilot, try our services and leave a review today.
Your Luggage Delivered Door-2-Door to and from Saint Lucia
Whether you're moving abroad, sending luggage to a friend or going on holiday we collect your baggage from
your home and deliver it straight to your destination.